Internal Gear Manufacturer in India
The internal gear has teeth on the inside of a cylinder. The teeth may be made either spur or helical. The teeth of an involute form internal gear have a concave shape rather than a convex shape.
Internal gears are generally more efficient since the sliding velocity along the profile is lower than for an equivalent external set because of the concave nature of the internal tooth profile its base is thicker than an equivalent external gear tooth ( either spur or helical) The tooth strength of an equivalent external gear.
Internal Gears cannot be used where the number of teeth in the pinion is almost the same as that of the gear. When this occur, the tips of the pinion teeth interface with the tip of the gear teeth. While good guide is to maintain a ratio of 2:1 between the number of teeth on internal gear and its matting pinion.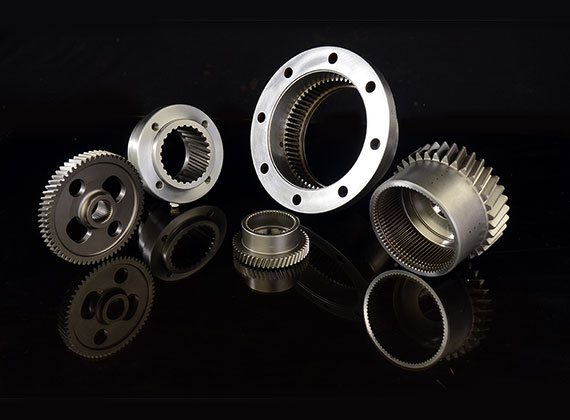 Internal Gear
Internal Gear
Internal Gear
Internal Gear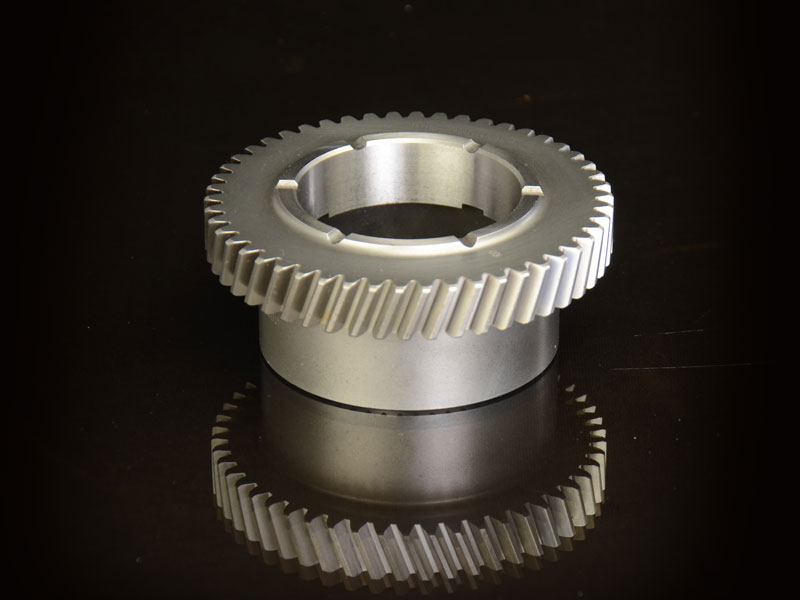 Internal Gear
Internal Gear
Complying Quality Gear Manufacturing Standards
" We manufacture world class ground gears for customers who need medium volume Gears, using best gear grinding technology and advance inspection facility "
Manufacturing Capabilities
We have an amazing array in our arsenal. We have everything on platter - Spur gears, Helical gears, Worm & Worm wheels, Racks & Pinions, Gear couplings with full crowing, Internal Gears, Segment gears, Cluster gears, Splined shafts, Sprockets, Cam gears, Timing Belt Pulleys etc. With astonishing range on cards, we are in a position to cater the requirements of different market segments. Be it any kind of segment, we assure effective & durable performance to any kind of machinery. Our products come with assured quality up to class 5 of DIN 3962 in hardened/ground and with twice range of macules from 0.5 to 25 in soft state. We, therefore, are in a position to meet variety of applications. We have become preferred business associates to many world-class manufacturers, thanks to our specialty in manufacturing of Hardened & Ground gears with precision quality.
Gear Type
Normal Module in mm
Outside Diameter in mm
Minimum
Maximum
Minimum
Maximum
Spur Gear – Hob Finish
0.5
25
10
2500
Spur Gear – Hardened & Precision Ground
0.5
25
50
1000
Spur Gear – Shaped (External)
0.5
25
10
1000
Spur Gear – Shaped (Internal)
0.5
10
75
700
Helical Gears – Hub Finish
0.5
10
10
2500
Helical Gears Hardened & Precision Ground
0.5
25
50
1000
Cluster Gears
0.5
12
10
1000
Timing Belt Pulleys
All Varieties
10
2000
Worms - Milled
1
12
10
200
Worms Hardened And Ground
1
12
10
200
Worm Wheels
0.5
25
10
2500
Chain Sprockets, Pitch
5mm
38.1mm
10
200
Gear Coupling (Full Crowing)
0.5
6
10
500
Gear Coupling Sleeves (I.D.)
0.5
6
50
600
Racks
0.5
8
Length 50-1000 mm
Quality Inherited
We inherit Quality in real sense. It is our legacy. It is the culture and it runs through our adrenaline. For us, quality is not just passion but religion. That is what we mean and that is what we breathe. Quality is at center stage, in every activity-right from Raw material procurement. Material inward system, Laboratory testing, Material handling and Accounting, Identification, Storing and Preservation, Processing, Packaging, Forwarding and Dispatch. In every sphere of operation, quality is assured to the hilt.
Flawless Assurance
Quality Assurance practices are bolstered by computerized process plans & stage - wise process drawings supported with 2D & 3D designs. Meticulously thought over "In-process quality Plans" ensured through inspection & quality assurance throughout the entire process.The robust and comprehensive ERP system is the backbone of our entire operation. Nevertheless, our skilled and empowered Quality Assurance Team is always on its toes to see that entire Quality Assurance activities run flawlessly, like a well-oiled machine.