Industrial Gears Manufacturer in India
Industrial Gears Manufacturer in India
We are an Industrial Gearing Solutions Company. We design and manufacture Gears, Gearboxes, Geared Motors and Gear Assemblies, using our contemporary integrated manufacturing facilities. Spanning over four decades of manufacturing excellence. We offer a comprehensive range of products and services—cutting edge gear solutions for a wide range of applications and specialized gear reconditioning services. Our presence in the customized products domain is a strong one, with us occupying a dominant position in the market today.
Complying Quality Gear Manufacturing Standards
" Manufacturer of wide range of critical components involved in power transmission process including precision gears and gear boxes "
Industrial Gears We Offer
Gear teeth could be manufactured with a wide variety of shapes and profiles. The involute profile is the most commonly used system for gearing today. It is a cylindrical gear with teeth parallel to the axis. An involute is a curve that is traced by a point on a taut cord unwinding from a circle, which is called a BASE CIRCLE. The involute is a form of spiral, the curvature of which becomes straighter as it is drawn from a base circle and eventually would become a straight line if drawn far enough.
Spur gear has teeth on the outside of a cylinder and teeth are parallel to the axis of the cylinder. This simple type of gear is the most common type its volume or the tooth usage is the largest of all types. The Shape of the tooth is that of an involute form. There are, however some notable exceptions, precision mechanical clock's every often use. cycloidal teeth since they have lower separating loads and generally operate more smoothly than involute gears and have less tendency to bind.
The cycloidal form is not used for power gearing because such gears are difficult to manufacture because sensitive small changes in center distance and not as strong or as durable as involute form. The most common pressure angle for spur gear 14 1/2', 20' and 25'. In general 14 1/4, pressure angle are not used for new design. The lower pressure angle have the advantage of smoother and quicker tooth action because of the large profile contact ratio and the higher pressure angle have the advantage the better load carrying capacity with respect to both strength and durability and lower sliding velocities. In some cases very high pressure angle 28°, 30° and in few cases as higher 45° are employed in some special slow speed gears for very high load capacity where noise is not the predominant consideration. The minimum of equipment is required to produce this type of gear thus it is usually the least expensive of all forms of gearing. While the common tooth form for spur gears is the involute.
Use of Spur Gear
Spur gears are used only when the shaft are parallel. Spur gears impose radial loads on the shafts.
We manufacture Spur Gears with following specifications
Gear Type
Normal Module in mm
Outside Diameter in mm
Minimum
Maximum
Minimum
Maximum
Spur Gear-Hob Finish
0.5
25
10
2500
Spur Gears-Hardened & Precision Ground
0.5
25
50
1000
Spur Gears- Shaped (external)
0.5
10
10
1000
Spur Gears- Shaped (Internal)
0.5
10
75
700
Helical gear can be used for transmitting motion between parallel shafts as well as between perpendicular (or any other angle) shafts. Helical gears used for transmission at any angle are usually called spiral gears. When gear teeth are cut on a spiral that wraps around the cylinder they are designated as helical. Helical teeth enter the meshing zone progressively and therefore have a smoother action than spur gear teeth and tend to be quieter. In addition, the load transmitted maybe somewhat larger or the life of gears may be greater for the same loading, than within equivalent pair of spur gear conversely, in some cases smaller size Helical gears (compared with spur gears) may be used to transmit same loading. The efficiency of the helical gear set, which is dependent on the total normal tooth load (as well as the sliding velocity and friction co-efficient etc.) will usually be slightly lower than for an equivalent spur gear set. For external parallel axis helical gears to mesh they must have same helix angle but be of different hand.
Helix angle form only a few degrees up to about 45° are parallel. As the helix angle increases from zero. In general the noise level is reduced and the load capacity is increased. At angle much above 15° to 20° however drop off. This is due to the fact that the transverse tooth thickness decreases rapidly. Herring Bone or Double Helical gear are frequently used to obtain the noise benefit of single gear without the advantage of thrust loading. The terms double Helical and Herring bone are sometimes used interchangeability actually herring Bone is more correctly used to describe double helical teeth that are cut continuously into a solid blank. The double helical gears may be cut integral with the blank, either in line or staggered, two separate parts may be assembled the double. Herring bone gear having a small groove between two helices. The groove is required for hobbing and shaving or grinding operation. The construction results in equal and opposite thrust reations, balancing each other and imposing no thrust load on the shaft. This types of gears are used only for parallel shaft.
Crossed Helical Gear:
Crossed Helical gear connect skew shafts. Both members may be helical gears or one may be spur gear according to the chosen relationship between the shaft angle and the tooth helices. The efficiency of the helical gears is quiet good though not quiet equal to that of simple spur. This is due to that of simple spur. This is due to the fact that all other things, being equal, the normal ( or total ) tooth load on a helical gear is higher than that on a spur for an equivalent tangential load.
Advantages of Helical Gear transmission over Spur gear transmission
Helical gear transmission gives comparatively noiseless motion at higher surface speeds.
Helical gear transmission gives comparatively smooth transmission at small gears with fewer teeth at large transmission ratio up to 15: 1.
Use of Helical Gears
The teeth of these gears are cut at an angle with the axis of the shaft. Helical gears have an involute profile similar to that of spur gear. However, this involute profile is in a place which is perpendicular to the both elements. The magnitude of the helix angle of pinion and gear is same, however the hand of helix is opposite. A right hand pinion meshes with a left hand gear and vice versa. Helical gears impose radial and thrust loads of the shaft.
We manufacture Helical Gears with following specifications
Gear Type
Normal Module in mm
Outside Diameter in mm
Minimum
Maximum
Minimum
Maximum
Helical Gears-Hob Finish
0.5
25
10
2500
Helical Gears Hardened & Precision Ground
0.5
25
50
1000
The internal gear has teeth on the inside of a cylinder. The teeth may be made either spur or helical. The teeth of an involute form internal gear have a concave shape rather than a convex shape.
Internal gears are generally more efficient since the sliding velocity along the profile is lower than for an equivalent external set because of the concave nature of the internal tooth profile its base is thicker than an equivalent external gear tooth ( either spur or helical) The tooth strength of an equivalent external gear.
Internal Gears cannot be used where the number of teeth in the pinion is almost the same as that of the gear. When this occur, the tips of the pinion teeth interface with the tip of the gear teeth. While good guide is to maintain a ratio of 2:1 between the number of teeth on internal gear and its matting pinion.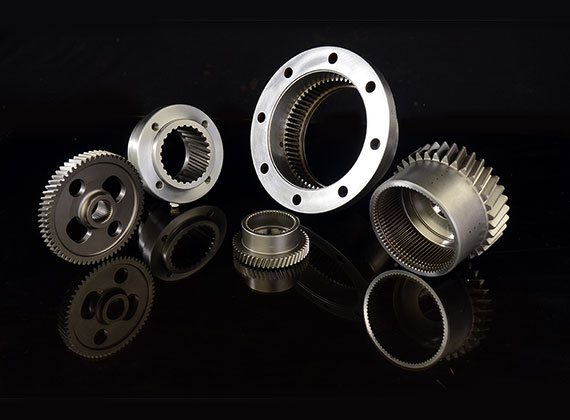 Other Industrial Gears We Offer